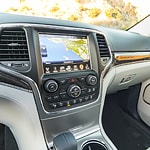 When you are out looking at new SUVs, you will want to take time to visit Riverdale Chrysler Jeep Dodge Ram and see the Jeep Grand Cherokee. As one of the more popular SUVs on the road today, this is a vehicle that comes packed with helpful features. You will love the safety enhancements that have been included as well.
The body of the Jeep Grand Cherokee is made strong. It comes with an advanced grade of steel that will steer the energy caused by a collision away from the cabin. This keeps you and your passengers better protected in the unfortunate event of an accident.
As the driver, you will also love the blind spot monitoring feature now included standard on the Grand Cherokee. This will alert you if there are vehicles in a zone that you cannot see, helping you avoid a potential collision. Check it out when you test drive this SUV at Riverdale Chrysler Jeep Dodge Ram.