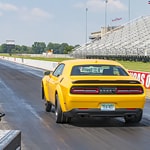 Do you want a car that's as bold as it is powerful? It's hard to beat the Dodge Challenger. This popular muscle car comes with a range of exterior options, so you can choose the perfect head-turning combination.
The Challenger comes in 11 different colors, giving you the freedom to express your personality. These aren't just any tones — make a splash with the shockingly bright Go Mango, or select the unexpected Hellraisin purple. Whether your style is classic or bold, there's a shade for you.
Passersby won't be able to resist taking a second look when you customize your Challenger with racing stripes. These stripes run from front to back, giving your car a retro-inspired twist. For a slightly modified look, opt for the Blacktop stripe on the hood for a hint of intimidation. Find out which one suits you better by coming down to Riverdale Chrysler Jeep Dodge Ram to check them out and schedule a test drive in the Bronx.