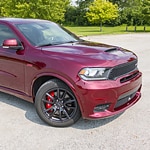 Overview
The new Dodge Durango has been refreshed and improved for customers. The already-comfortable Durango now offers more comfort and uses its space more-wisely. The three-row seating layout of the Dodge Durango is capable of seating up to seven occupants at a time.
A Comfortable Space
When using all of its space, the new Dodge Durango will keep each of its seven occupants comfortable. Nappa leather is available for the Durango with seats that are also both heated and cooled. A stylish forged carbon-fiber trim is equipped on the premium levels of the new Durango lineup.
Interior Technologies
The interior of the Dodge Durango has been revised to include several new technologies. A new panel houses the gauges and instruments that drivers need to drive the Durango. UConnect 5, a freshly-updated software, powers the infotainment system of the new Dodge Durango, adding additional software from Apple, Android, and Amazon to the SUV.