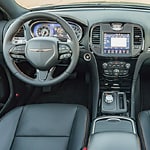 Our Riverdale Chrysler Jeep Dodge Ram team consists of longtime Chrysler 300 fans. We love that it's a big, luxurious, stylistic throwback to large, luxurious four-door family sedans of yore. Not content to stay the same, Chrysler continuously improves on its fleet's exterior and interior features. The Chrysler 300's interior features reflect Chrysler's ongoing tradition of excellence and innovation.
Room for a Pony
Largeness is the first thing that you notice about the Chrysler 300's interior. Its spacious cabin comfortably seats up to four adults. A rear bench option seats up to three children. Plus, the backseat has a 60/40-split, the seats folding down seamlessly to expand the cargo bay. With rear seats folded down, the Chrysler 300 holds a whopping 10 carry-on suitcases.
Perfect Paddle Shifters
Paddle shifters are so trend-forward, easy and efficient, they even appear in professional race cars. They shift gears swiftly and seamlessly, minus the lag. Located on or near the steering wheel, the Chrysler 300's paddle shifters don't require a clutch pedal and don't have a steep learning curve. They also have electronic safeguards to protect the engine and transmission from damage resulting from ill-timed gear-shifting.