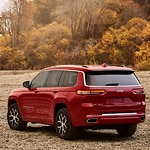 Jeep is one of the most well-known names in the automotive industry. It's no surprise that many drivers are interested in getting their hands on a Jeep Grand Cherokee. The L-Capability Features of this vehicle make it stand out from other SUVs, and here we will take a closer look at them!
First of all, the Jeep Grand Cherokee has a great off-road performance thanks to its Quadra-Lift air suspension. This system can increase ground clearance by 10.6 inches when needed and even allows you to raise the vehicle up to add more cargo space (although we recommend against such modifications). The front suspension is very impressive, as it can be raised by as much as 1.1 inches and the rear one rises up to 2.6 inches depending on your needs, or you could just keep them both lowered for maximum aerodynamics.
Another thing that makes this vehicle stand out from the rest is the Selec-Speed Control function: it allows you to choose between seven speeds for both forward and reverse. If you choose the highest one, then the vehicle will move at a top speed of 20 mph, which can come in handy when rock crawling.