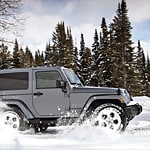 If you want an SUV that has plenty of safety features for your peace of mind, the Jeep Wrangler is a great choice. Consider the Wrangler if you want features such as blind-spot monitoring or helpful parking guides.
At Riverdale Chrysler Jeep Dodge Ram, we love the automatic high beams the Wrangler offers. If you are driving in the evenings or early morning and there is a storm, the auto headlamps help you stay focused on driving, and you don't have to worry about manually switching your high beams and low beams.
There are also parking features that use the rear camera and alerts, so you know when you are too close to the car or other objects behind you as you park. The camera is also useful when you back out of a parking spot or driveway. There is also a feature called rear cross path detection, which lets you know if a car is getting ready to pass behind you.