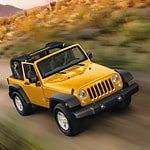 The Jeep Wrangler has one of the most rabid followings of any vehicle on the road. That's because you can take the Wrangler just about anywhere. So what makes the Wrangler so capable? Let's take a look at some of its more notable features.
High Ground Clearance
The Jeep Wrangler is intended to handle the most challenging off-road situations. That's why the Wrangler has a higher ground clearance than other vehicles in its class. With the higher ground clearance, it easier for the Wrangler to handle obstacles such as large rocks and standing water.
Read More