Dreaming of going to college or
going back to college but can't afford it?
Wondering how you're going to
send your kids to college?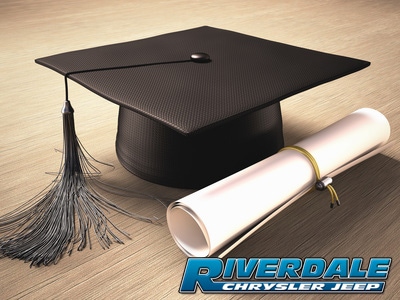 Come to work for Riverdale and get your associate's, bachelor's, or master's degree for FREE with no up-front costs or need for loans.
Riverdale Chrysler Jeep, along with Fiat Chrysler Automobiles, has teamed up with Strayer University so that, as our employee, you and/or your immediate family can go to college for FREE.
We will cover
100% of the cost of of tuition, fees, and books
(valued at $42,000 a year) all the way through to receiving your Strayer degree.
How do I benefit from the program?
Worry no more about saving for college
Sleep better at night knowing you can send your kids to college

Be free of any insecurities your lack of a college degree is giving you

Keep your money in your pocket with no up-front costs
Avoid the reimbursement hassle with no up-front costs

Stay student loan debt-free
Escape the financial aid application process
Give your career a boost with an accredited degree
Use what you learn in class immediately here at work
Tell me more about the program
Provides associate's, bachelor's, and master's degrees
Covers 100% of your costs - including tuition, fees and books
Requires no up-front costs - therefore no reimbursement is necessary

Offers 40 fields of study from accounting to business administration to education
Features a customized curriculum tailored to the automotive industry
Includes both online programs and classes at 77 campuses
Allows 24/7 online access for flexibility
Assigns you a "success coach" who can help you transition into the college experience
Gives you course credit for training and work experience you already have

How do I know if I'm eligible?
It's easy! All you need is to be in good standing as an employee of Riverdale Chrysler Jeep for 30 days.
How do I learn more?
Call Alan Katz at (718) 547-5500 x 266 or
email him
at akatz@eastcjd.com